About HOTEL GRAND COCOE KURASHIKI
Once upon a time, Kurashiki City, Okayama Prefecture, prospered as a "Tenryo (place which directly ruled by Edo shogunate)" in the Edo Period (1603-1868). In the Meiji Period (1868-1912), the city developed by establishing a spinning factory. We welcome you as a window of Kurashiki city and weave the city, life, time, and relationships for Kurashiki's future like spinning, which twists and stretches fibers to make yarn.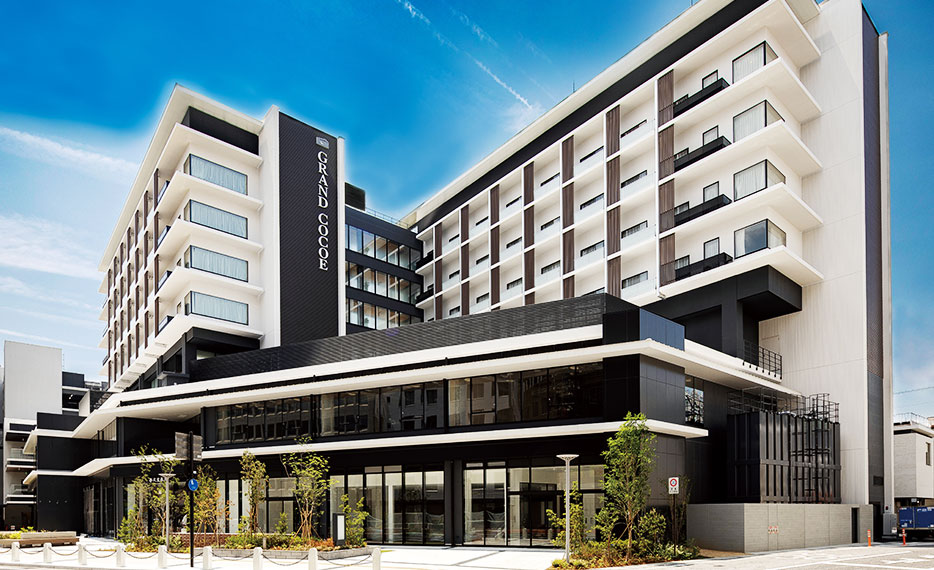 The hotel has 152 guest rooms, banquet halls that can accommodate up to 200 people, a Japanese restaurant, and a Communal bath, and the hotel, which you can feel Kurashiki's charms everywhere.
The warmth of a veranda and the serenity space of the garden spread out in the front lobby. We have placed easy chairs designed by Kenzo Tange so that guests can relax. The walls and floors are colored in the motif of Kurashiki's materials. The ceiling reminds the eaves in the Kurashiki Bikan Area (There are many traditional Japanese houses) that you can feel and experience Kurashiki's charms with your five senses.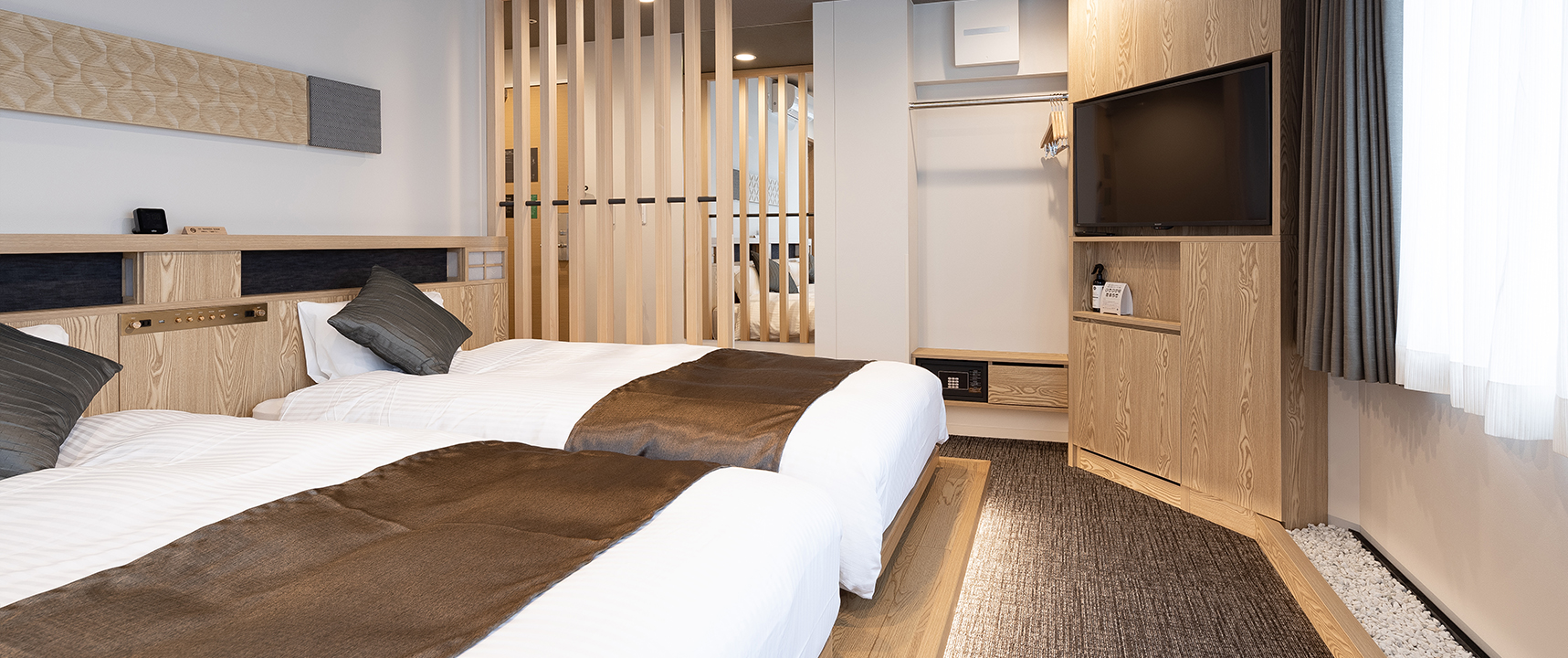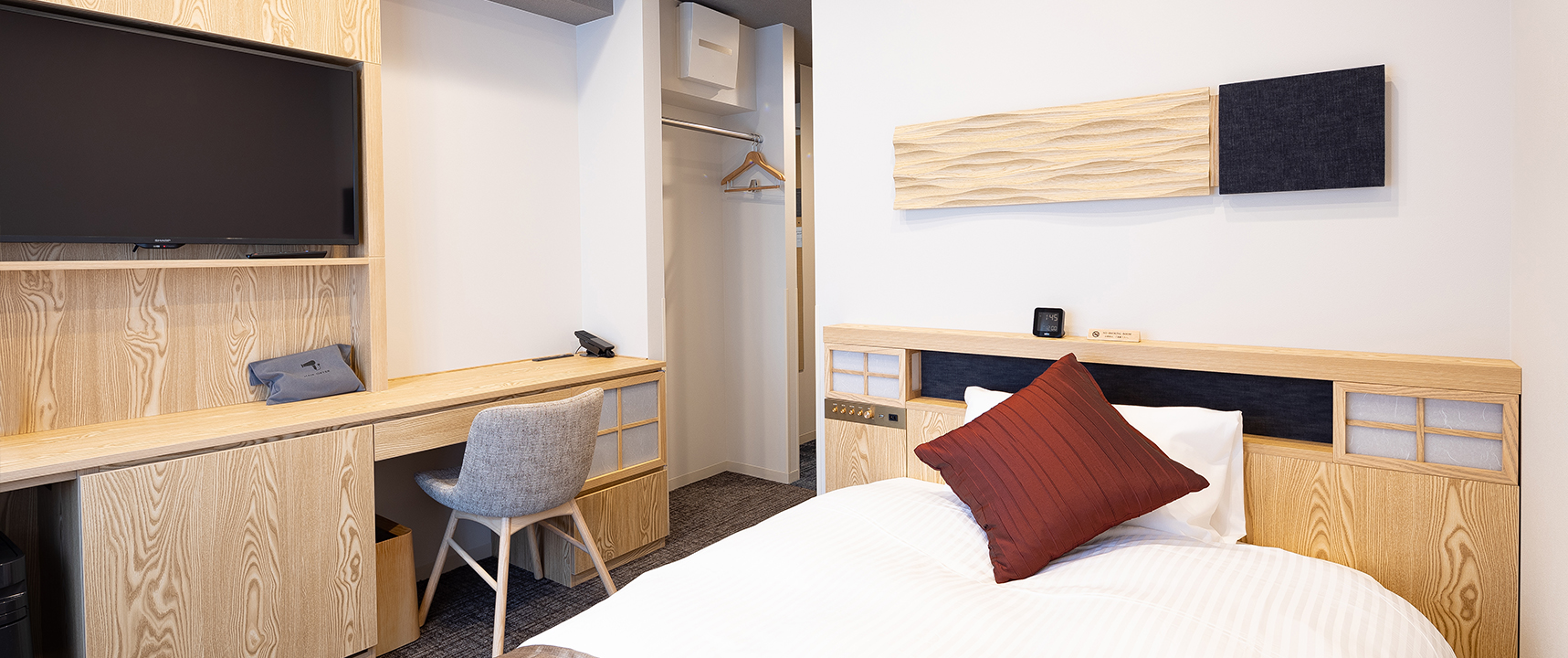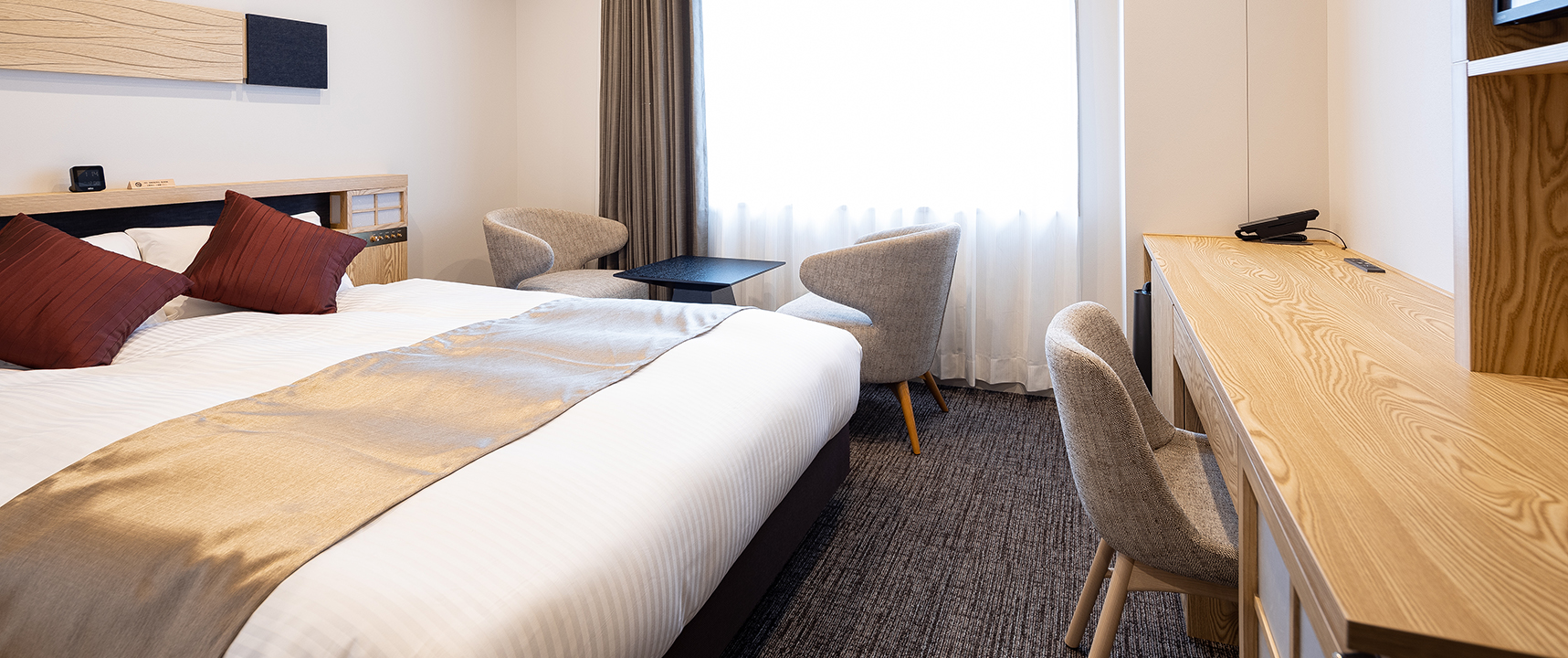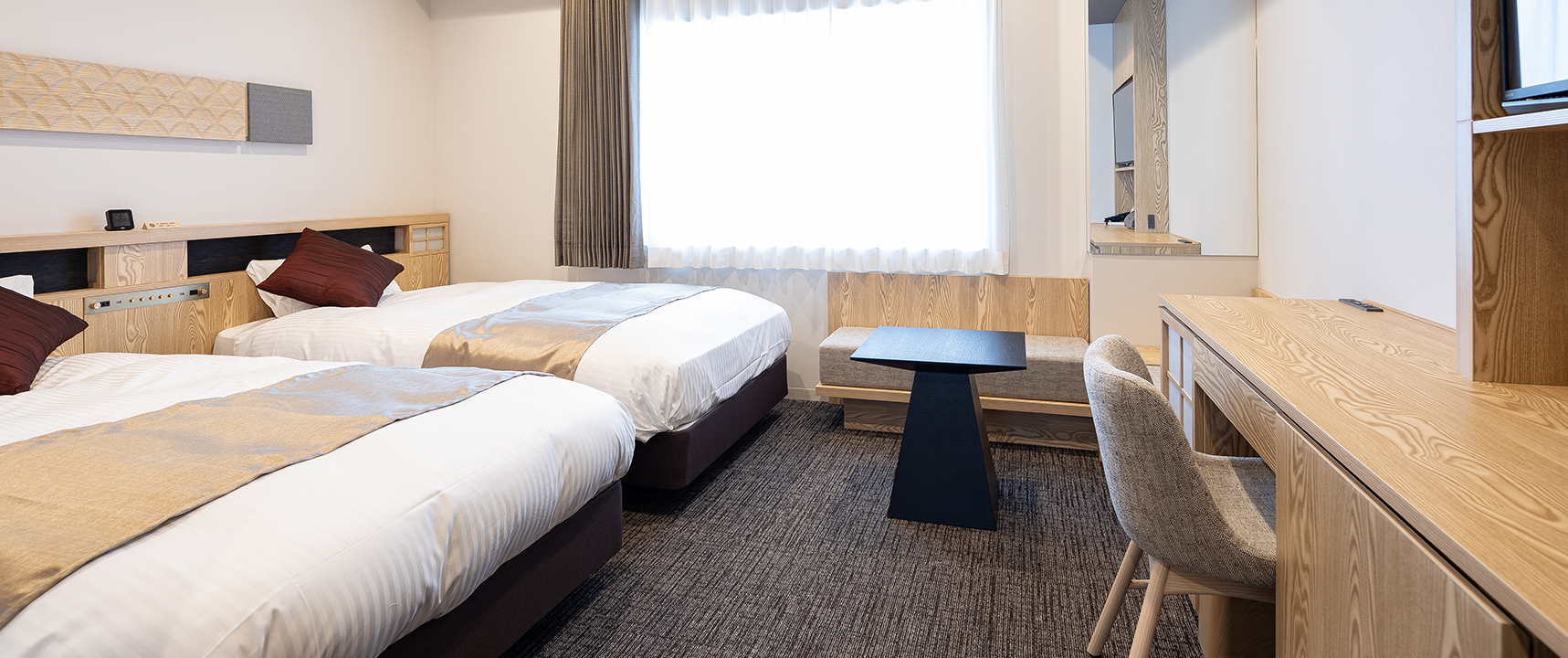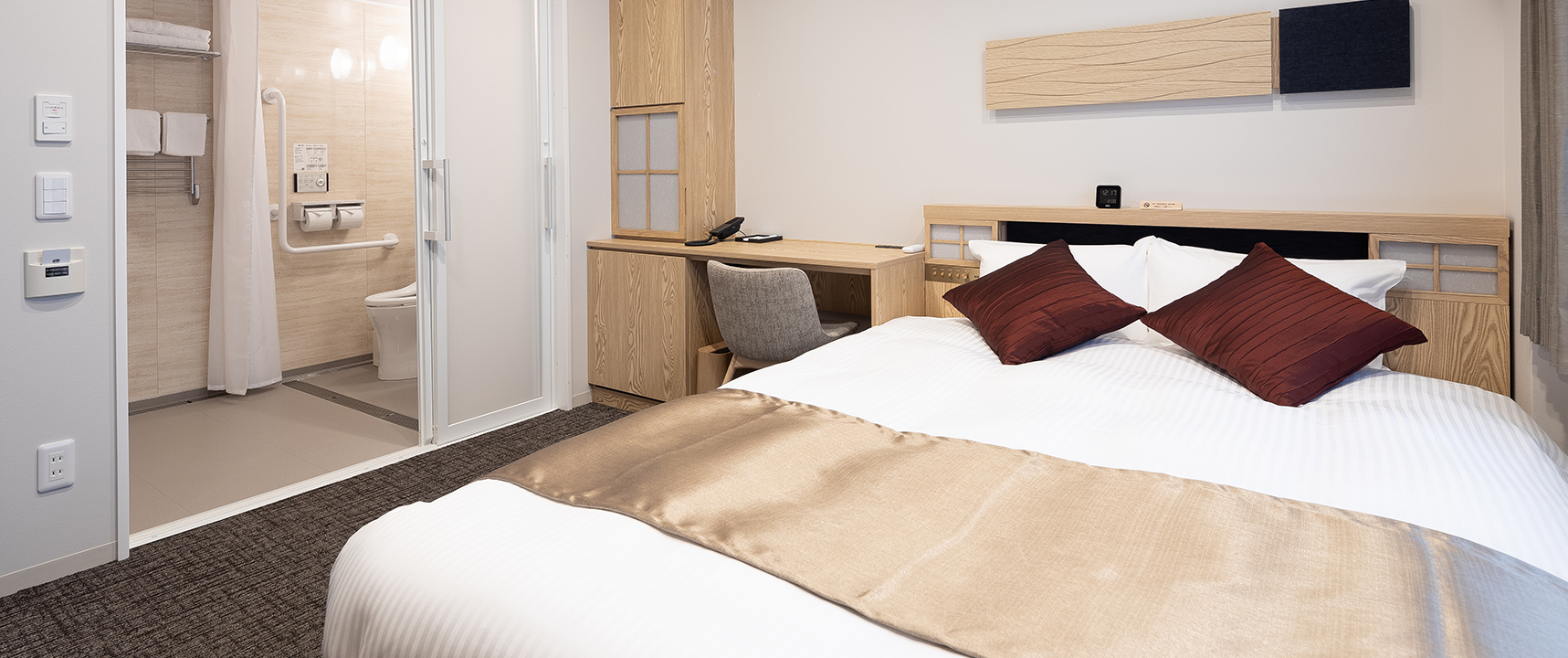 Guest Room
The rooms on each floor are decorated differently to reflect the image of "spring, summer, autumn, and winter." The rooms are decorated with denim (Kurashiki's specialty), unique to Kurashiki and the warmth of wood. You can relax in a room where you can feel Japanese charm.
The denim-colored mugs and the denim-toned in-house clothes are unique to Okayama Prefecture that you can feel them everywhere in the hotel. All rooms are non-smoking and equipped with air purifiers and Simmons beds for your comfort.
Deluxe Twin
Room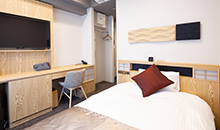 Single Room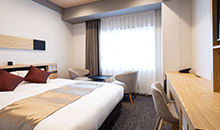 Double Room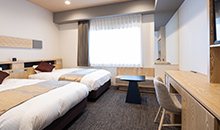 Twin Room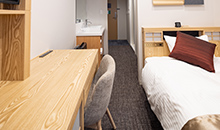 Economy single
room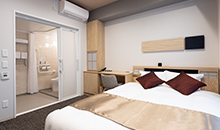 Accessible Double
Room
Free Wi-Fi

Simmons Bed

Safety Box

Air Purifier

Accessible Rooms
Available

Facility and Service
We have a wide range of facilities to make your continuous stay more comfortable.
Free Wi-Fi

Coin-Operated
Laundry

Automatic
check-in

Self-Served
Amenities

Smoking Area
Check-in / Check-out
Check-in Time: 15:00 / Check-out Time: 11:00
Parking Lot
A designated parking lot for the hotel: Kamoi Parking lot
・24-hour ticket available at the front desk for ¥1,000
Municipal Achitarrace Kurashiki Parking Lot
・12-hour tickets available at the front desk for ¥800
(Please note that we do not accept the reservation for the parking lot, and the parking lot is not available when it is full.)
upport for Accessible Access
Accessible room available / Wheelchair accessible & Wheelchair available for rent
Hotel Information
1F: Restaurant "Kurashiki Shirakabe"
F3: Front Desk Lobby / Banquet Hall, Conference Hall / Communal bath
4F - 7F: Guest Room

Restaurant
"Kurashiki Shirakabe"
We offer a wide range of beautiful Japanese cuisine that is fully used with the skills of professional chefs.
Our chefs choose the seasonal delicacies of the Seto Inland Sea and mountains and use skillful techniques for Japanese cuisine that you can enjoy the taste of seasonal ingredients. Please enjoy them with a wide variety of sake.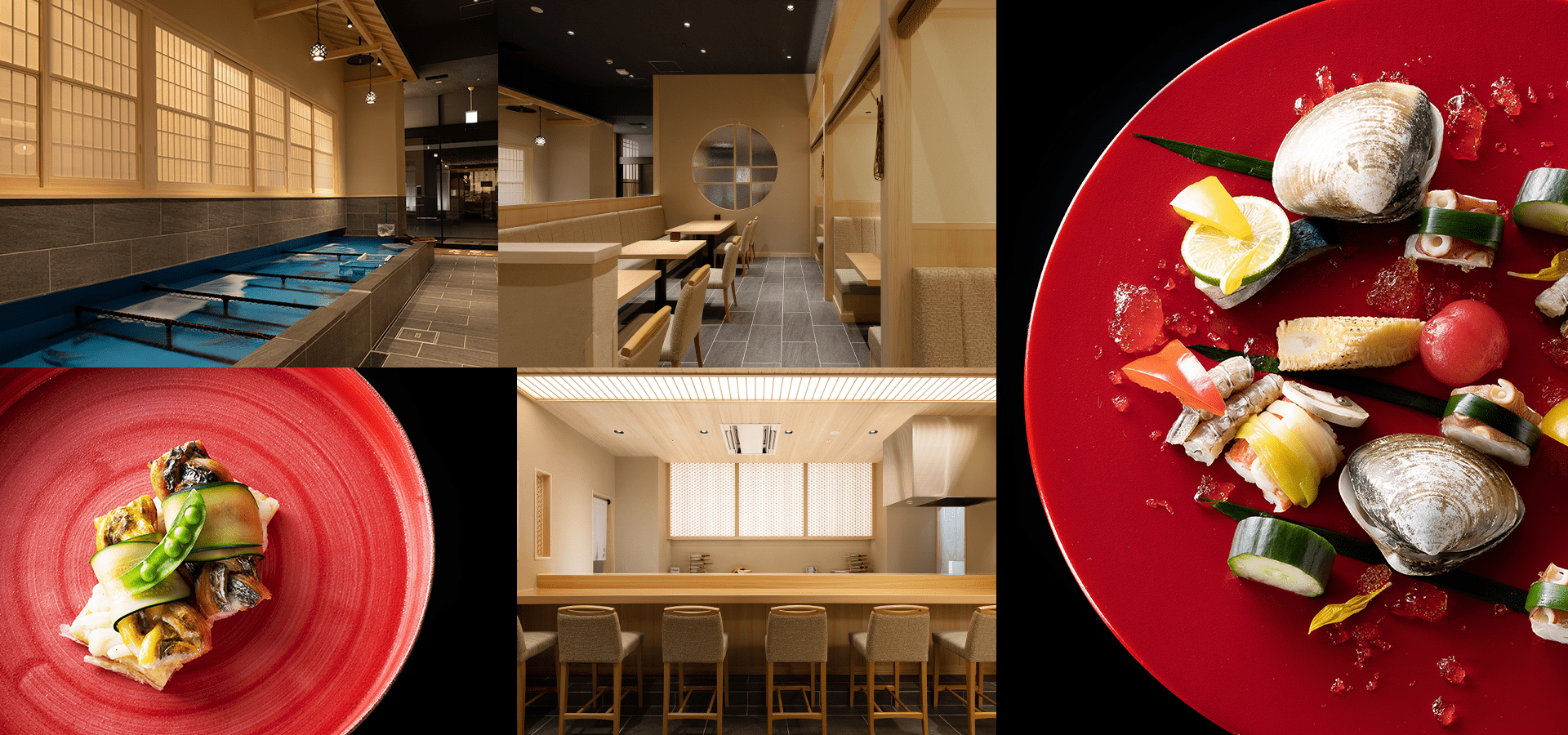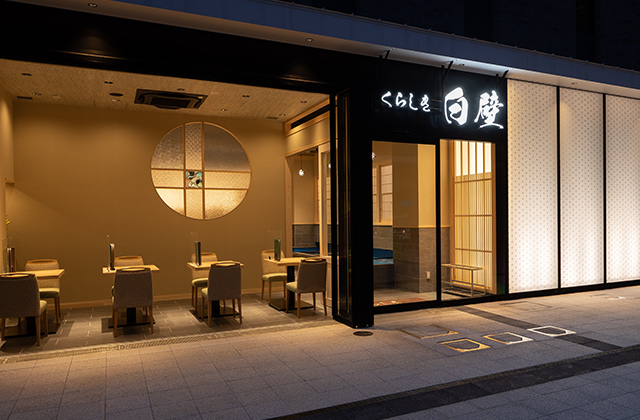 | | |
| --- | --- |
| Floor | 1F |
| Number of Seats | Total number of seats: 97 seats, 9 private rooms (50 seats), 7 tables (32 seats), 4 tables at terrace (8 seats), 7 seats at the counter |
| Business Hour | Breakfast 6:30 - 9:30 (last entry: 9:00) Lunch 11:30 - 15:00 (last call: 14:00 for food, 14:30 for drinks) Dinner 17:30 - 22:00 (last call: 21:00 foe food, 21:30 foe drinks) |
| Closed | Every second Wednesday of the month (lunch and dinner time) (If it is a national holiday or the day before a national holiday, we are open.) |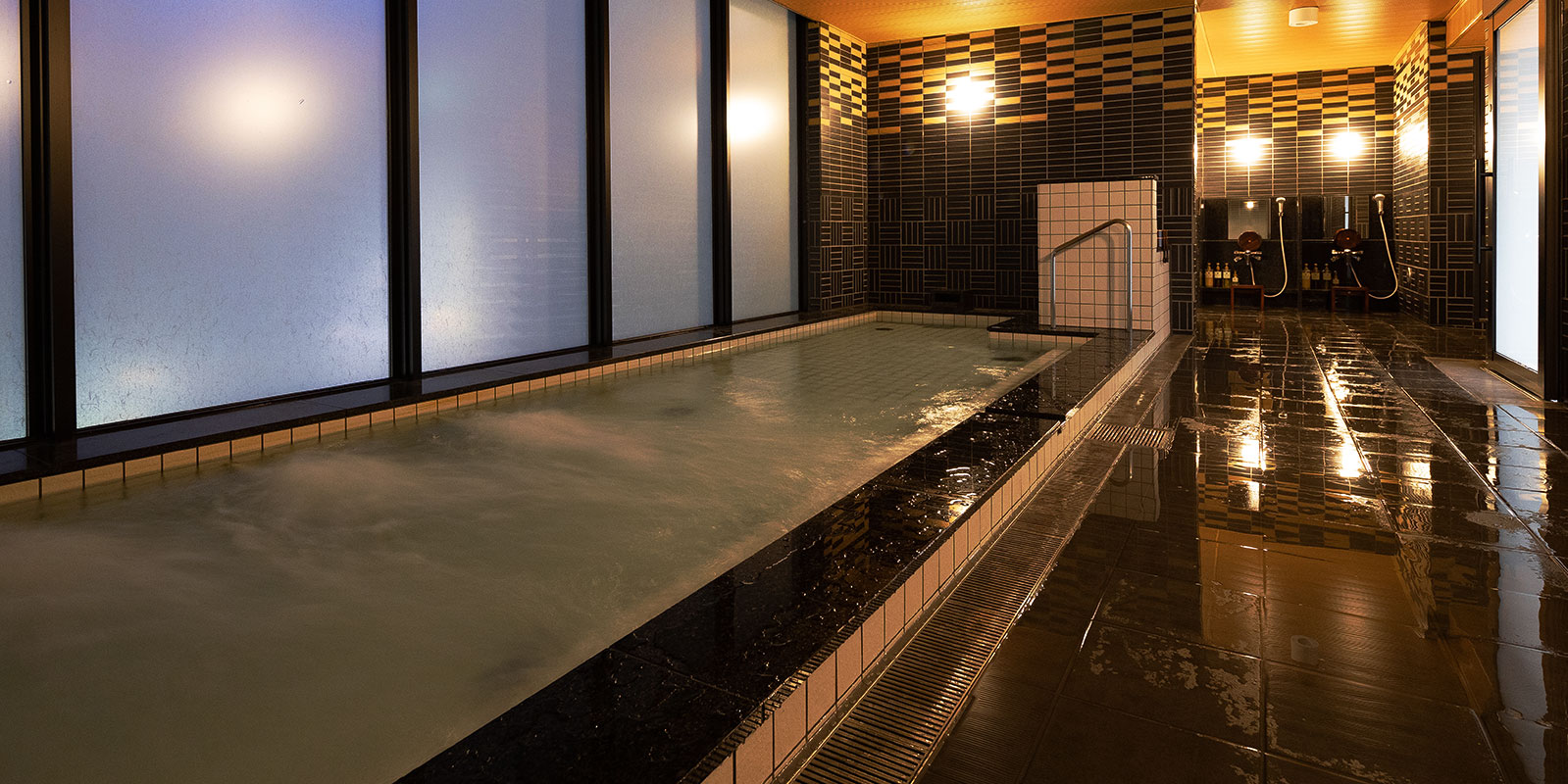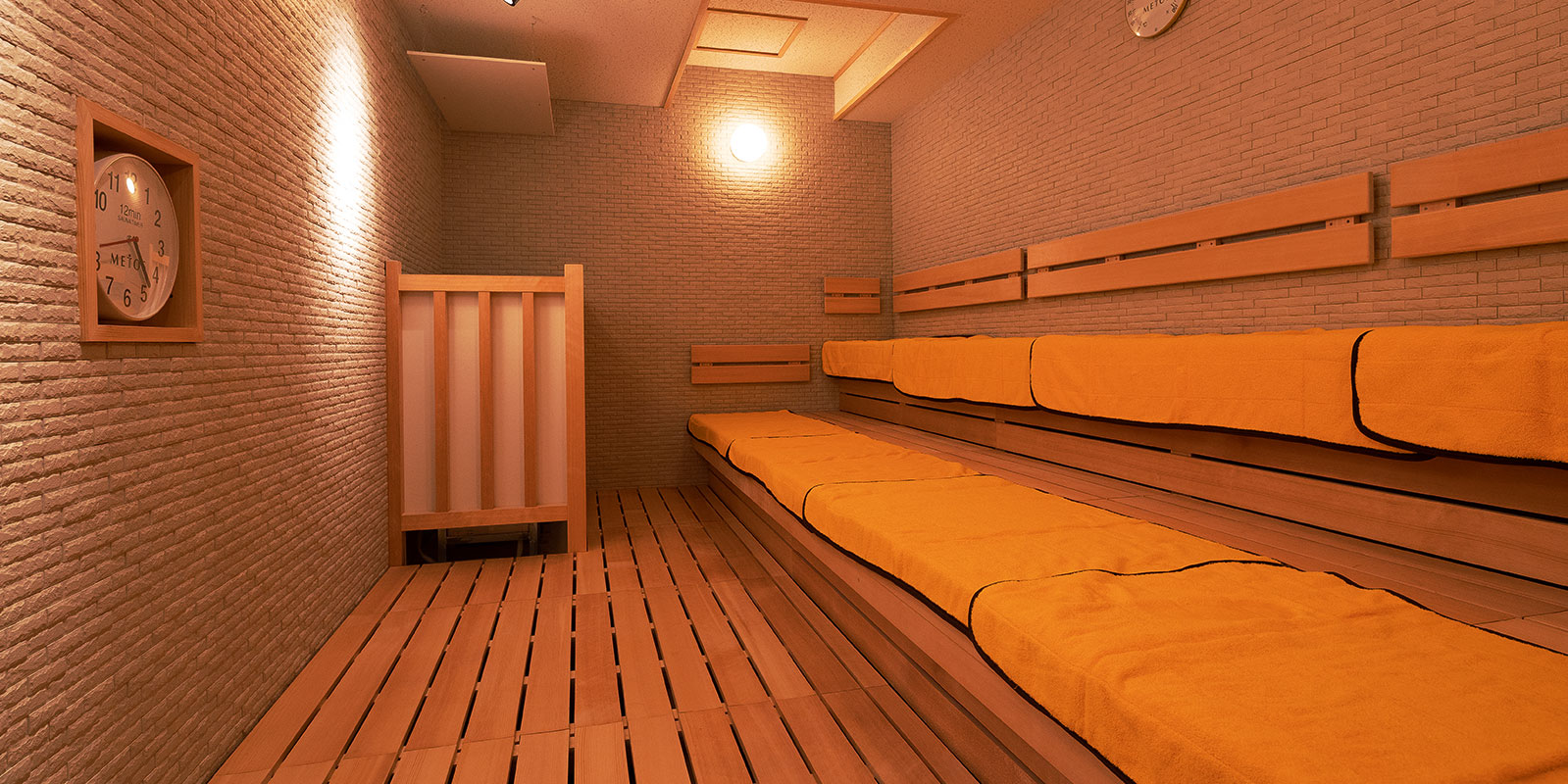 Communal bath
The Communal bath has an openness feeling with sunlight coming in, a Jacuzzi, a half open-air bath, and a sauna in the men's Communal bath.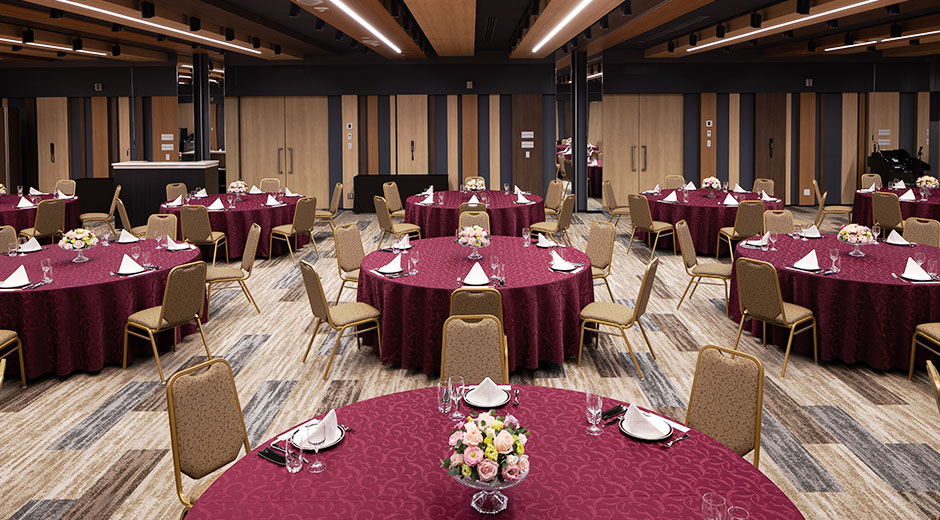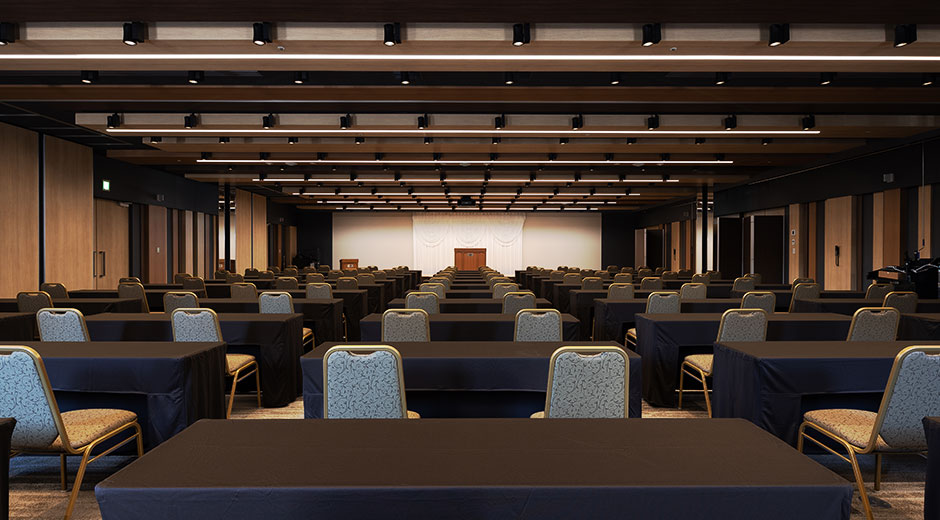 Banquet Hall and Conference Hall
"Grand Hall"
A large banquet hall can accommodate up to 200 people.
In addition to the 312㎡ Grand Hall, small conference rooms range from 13 to 18㎡.
They can be used for small gatherings, meetings, or waiting rooms.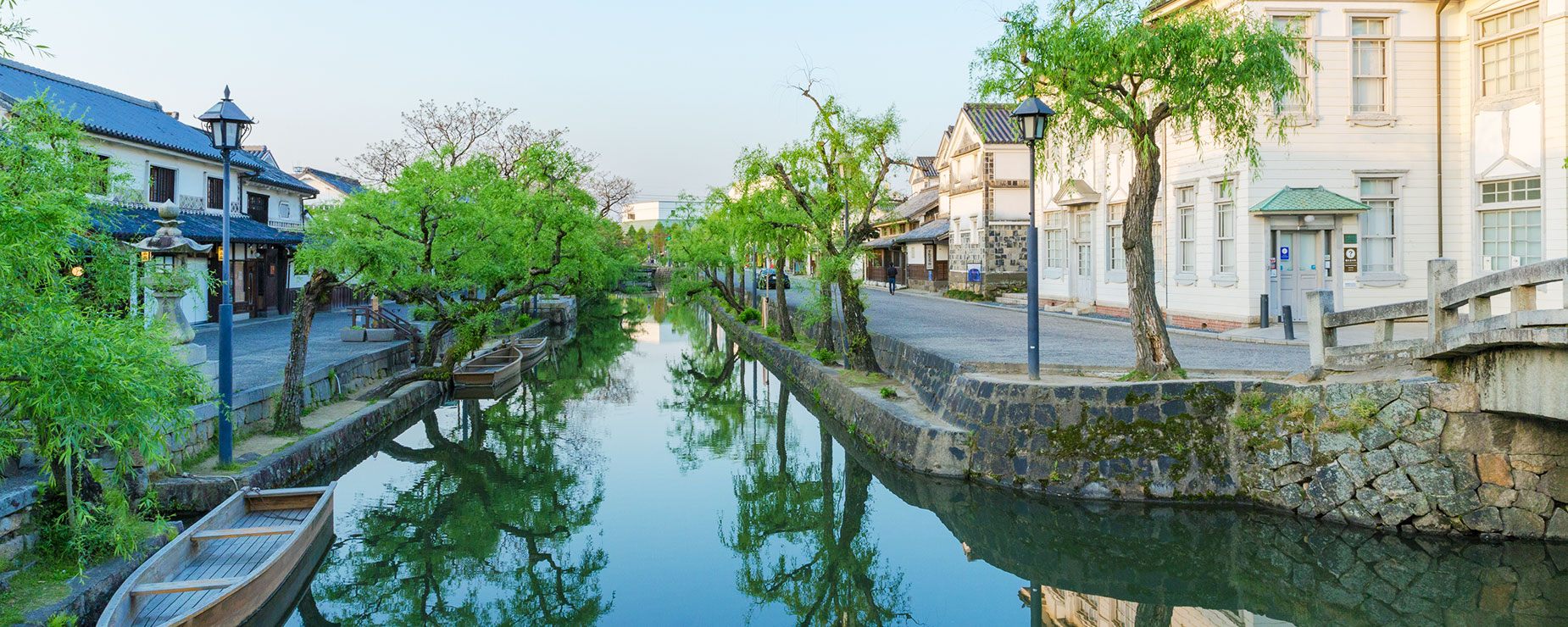 Access and Sightseeing
It is conveniently located about a 3-minute walk from the south exit of Kurashiki Station.
From the south exit of Kurashiki Station, walk forward Kurashiki Chuo Dori street, and you will see the hotel in about 3 minutes on foot. The hotel is within walking distance of the Bikan Area and Mitsui Outlet Park Kurashiki. It makes it a convenient location for both sightseeing and business.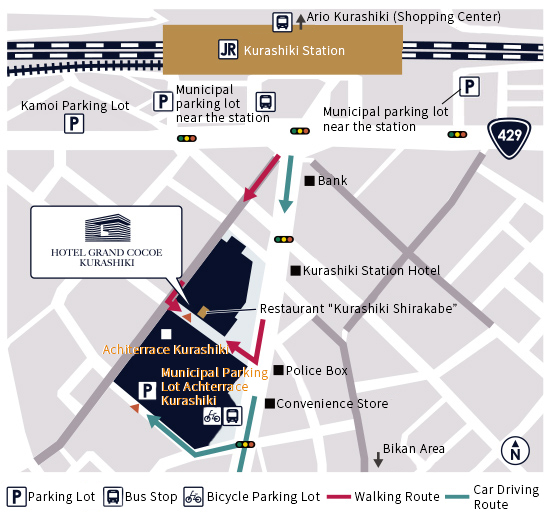 Guide to the hotel entrance
The hotel entrance is located on the north side of the hotel. If you come from Kurashiki Station, go forward Kurashiki Chuo Dori street and turn right at Achiterrace Kurashiki.
Mitsui Outlet Park Kurashiki

About 10 minutes
walk from the hotel

Kurashiki Bikan Area

About 6 minutes
walk from the hotel

OharaMuseum of Art

About 8 minutes
walk from the hotel

Kurashiki River Boat Riding

About 9 minutes
walk from the hotel
COVID-19 Infection
Prevention Measures at
HOTEL GRAND COCOE KURASHIKI

We ask our guests to wear masks inside the hotel and take temperature when they enter the hotel.

We place alcohol disinfectants in the hotel and ask for guests' cooperation in disinfecting hands.

Disinfection and ventilation are frequently carried out. Rooms and other areas are disinfected regularly.

We accept cashless payments. We also use cash trays for cash payments.

Breakfast. which carries out the infection prevention measures, is served in a buffet-style.

Employees must wear masks, and their temperature and physical condition are checked.

In case of fever or cold symptoms, we have a system to contact the public health center for getting instructions.